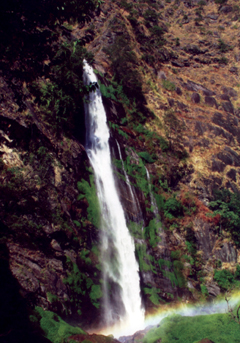 SLIM WAY TREKS AT GHALEGAUN TO POKHARA
(10 Night, 11 Days)
Some peoples of developed countries are exceptionally over weight due to their portentous & chemically preserved dieting habits. So they themselves are becoming the home of different diseases. Such individuals need 3-4 hours daily walk along with organic food, massage with medicinal oil, to maintain their health condition. So this slim way trek is especially for those heavy persons.

Day-1: 3 hour drive for Bimal nagar from Kathmandu, lunch, 1 hours trek, tour to Siddha Cave, (The Biggest Cave of Asia) 2.5 hour drive to Khudi, Lamjung, Evening walk at Khudi area, Dinner/Slide show program about Gurung life style, culture program, rest O.N. Khudi (792m)

Day 2: Wakeup, breakfast, 2 hours treks for Batasay Cave, Khudi Hydro Project, Damp site & power house site, lunch, return back Via Tarapu village tour to Buddha Monastries, Swimming at Natureal swimming pool, dinner / culture show. Rest O.N. Khudi. (792m.)

Day 3: Breakfast, 1.5 hour treks for roplay phant 3 hours treks for Bhalam chaur village, welcome by villagers with Nepali music, (Panche Baja), chekin, tour to village, dinner, rest O.N. Bhalam Chaur (1350m.)

Day 4: Wakeup call breakfast, 2 hours walk for chautara viewing the Marshyangdi river valley & mt. Manasalu range, 2 hours walk for Ghale gaun, welcome by villagers with culture program, lunch, checkin, rest, evening sight scene dinner, rest O.N. Ghalegaun.
(2016m.)

Day 5: Weak up call follow by tea, morning sight scenes (Sunrise, Mt. Annapurna & Manaslu range, 13 districts hills)
Breakfast, tour to Tea firm, Buddha Monasties, Talanyo daha, lunch, viewing Gurung life style, Ghalegaun village tour, Gurung culture program, dinner, rest O.N. Ghanpokhara. (2100m.)

Day 6: Wake up call follow by tea, Breakfast, 2 hours treks for Baghum (1650m.), Village tour, lunch.
1 hour walk for Chautara, 2 hours walk for Ghalegaun, dinner/rest.

Day 7: Breakfast, 2.5 hours treks for Kapur Gaun, Lunch, 1 hour treks for Baglungpani, 2.5 hours treks for Nalma, Evening sight scenes, dinner/ rest. (1400m.)

Day 8: Wake-up call follow by tea, breakfast, 3 hours treks for Shaulibazaar, lunch, 3 hours, treks for Karapu (bank of the Madi river), 3 hours drive to Pokhara, Dinner/rest.

Day 9: Wakeup call follow by tea/coffee, breakfast, 2.5 hours treks to Sarangkot, viewing the Machhapuchhre, Dhaulagiri, Pokhara valley, Drive to Lakeside/lunch, 1.5 hours treks to world peace Monastries, tour to David falls, return back room, dinner/rest.

Day 10: Wakeup call, 2 hours walk for Mountain Mesium, Tour to Mahendra Cave by drive, Tour to Gurung mesuim by drive, half hours treks for lake side tour to Barahi temple, dinner/rest.

Day 11: Breakfast, 7 hours drive to Kathmandu departure.